Portrait of Elena Bothari-Jesek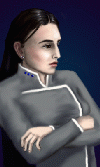 Prompted and inspired by discussion of cover art, I've made yet another picture on Photodeluxe. Correct me if her eyes are not supposed to be brown. I don't draw men much, so I'm not sure if I'll attempt Miles. No other male characters, at least under my own direction. Miles's girlfriends, certainly.
Elena's always been one of my favorite characters to draw, because her face is described with so much character. This is Elena near the middle or end of The Warrior's Apprentice, clothed in the simplest version of how I envision the Dendarii uniform. I'm not sure what collar tabs Elena would wear in accordance with her supposed rank, but these looked about right.
Janet
© 1999 by Janet Bruesselbach
Current version by Michael Bernardi, mike@dendarii.co.uk
---

The Bujold Overflow Site

The Fan Art Archive

The Bujold Nexus.
---
All comments or queries about this Web page to: webmaster@dendarii.co.uk
Last updated: June 6th 2003
---