Vol I No 2 Summer 1996
The Lois McMaster Bujold Fan Club Newsletter
Welcome to issue two of the re-launched Dendarii Dispatch.

First I'm afraid I managed to use both spellings of Dispatch/Despatch which are allowed in English, in the previous issue! I've decided to use the Dispatch spelling in future, for consistency.

Those of you with access to the Internet and the World Wide Web will be interested to know that I have finally set up a site dedicated to Lois McMaster Bujold. It's address is http://www.herald.co.uk/~dendarii/ and it will be know as The Bujold Nexus. Since it is fairly new and my first effort at creating such a site, it will probably evolve over the next few weeks and months. Hopefully always providing something of interest.

The new logo is one of the other fruits of the Internet. It was created by Jennifer Hawthorne (jen@rio.com), and finalised after much email across the Atlantic. I hope you all like it, if not tell me why and design a replacement. If you DO like it let Jennifer and I know. I'll pass messages on if you don't have email.

---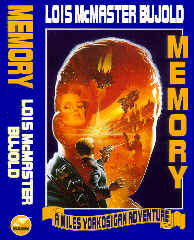 Lois has confirmed that Memory will be published, by Baen, in hardback in October of this year, so it may appear in some book stores at the end of September. The cover is by Garry Ruddell, and was provided by Arnold Bailey (abailey@webwrights.com) Webmaster of Baen Books via the Internet. Both Barrayar and The Vor Game have been republished with new covers also by Garry Ruddell, The Warrior's Apprentice is also due for republication.

Baen will also be releasing Cordelia's Honor as a trade paperback in November. This is NOT a new book - but an omnibus volume combining Shard's of Honor and Barrayar. This has a cover by Gary Ruddell, with a version of Cordelia that has red hair!

The Reader's Chair has released the first of its series of Lois McMaster Bujold tapes. Falling Free is performed by Michael Hanson and Carol Cowan has an ISBN 0-9624010-9-9 and comprises 7 cassettes. The cover is from the original Analog publication. It lasts 9 hours and 9 minutes and cost $42.00. Unfortunately it is not available out side of the US. Phone: (800) 616-1350 or (408) 636-1296, email: TRC@ReadersChair.com Post: P.O. Box 2626, Hollister, CA 95024, USA. A review will appear in the next issue of the Dispatch.


The second tape, Shards of Honor will be released September 1996 with ISBN 1-885585-00-4. The next two tapes Barrayar and The Warrior's Apprentice have been recorded and will be released sometime next year.

---
Lois is to be Guest of Honor at Coppercon 16, September 6-8 1996 at Holiday Inn, Sunspree Resort, Scottsdale, Arizona. Call 1-800-852-5205 for hotel reservations, $60/nt sgl/dbl, $70/nt tpl/quad, $120/nt, suites (plus 10.725% tax on all rooms)
Registration is $30 until 24 Aug 96 $35 Attending. For more info, call or e-mail m.willmoth@genie.geis.com (Mike Willmoth) at (602)945-6890 or The Con Chair leew@indirect.com (Lee Whiteside) can be reached at (602)962-9415.
CopperCon 16, PO Box 82303, Phoenix, AZ 85071-2303

She will also be Author GoH at Windycon XXIII to be held at the Hyatt Regency Woodfield, Schaumburg, Illinois during the weekend of November 8 - 10, 1996. Registration for Windycon XXIII is $25 in advance (postmarked by Oct, 4, 1996), or $35 at the door. To sign up, or for more information, write to: Windycon XXII, P.O. Box 184, Palatine, IL 60078-0184.

In July she was due to speak to librarians at the American Library Association conference, in New York.

---
If you have news, reviews or suggestions for the newsletter send them to me at the address below. Note that I may or may not use material submitted and will edit material as I see fit.

I would be particularly interested in reviws of Cetaganda and Memory once it is published.

---
If you have news, reviews or suggestions for the newsletter send them to me at the address below. Note that I may or may not use material submitted and will edit material as I see fit.
Miles' Minions is the official Lois McMaster Bujold Appreciation Society. The Dendarii Dispatch is the newsletter of Miles' Minions. The main purpose of the Dispatch is to provide information about Lois's convention appearances, book release dates and to allow Lois to easily communicate with her fans.
The editorial address for queries about the Dendarii Dispatch is:-
Dendarii Dispatch
145 Maple Drive
Burgess Hill
West Sussex
RH15 8DE
England
email: mike@dendarii.demon.co.uk
The contact here is Michael Bernardi
The official address for subscriptions to Miles' Minions etc is:-
Miles' Minions
PO Box 132
Shiloh
NJ 08353
USA
The contact here is Judith Louvis
---
There is also an electronic discussion list on the Internet which you can join (if you have access to Internet email). The Lois McMaster Bujold Mailing List exists to allow discussion of the works of Lois Bujold. If you wish to join the list send an email to listproc@herald.co.uk with subject blank and message body of
SUBSCRIBE LOIS-BUJOLD Miles Vorkosigan
(assuming your name is Miles Vorkosigan if it isn't, substitute your own name instead, not your email address).
A Lois McMaster Bujold World Wide Web home page (The Bujold Nexus) has just been set up, and it can be found at http://www.herald.co.uk/~dendarii/.
© 1996 by Michael Bernardi
Current version by Michael Bernardi, mike@dendarii.demon.co.uk
---
---
All comments or queries about this Web page to: webmaster@dendarii.demon.co.uk
Last updated: January 31st 1998
---