Vol I No 3 Winter 1996
This edition only available on the Net!
It's one year since I re-started Dendarii Dispatch. I hope you enjoy this edition.
A Message from Lois
Best Holiday wishes to all, and good fortune in the New Year. I'd like to thank all of you for your wonderfully faithful interest in my work and my characters -- and for helping put Cetaganda and Memory on various genre best-seller lists this past year. That qualifies as truly practical support, the finest kind! I am continually delighted by the high quality of my readers, as demonstrated to me in their letters and conversations. It's a deep flattery for my work money couldn't buy.

Word of mouth, person-to-person, has been and continues to be the life-blood of my career. Studies have shown it sells more books than advertising and reviews and cover art put together. (I once defined word-of-mouth as the triumph of content over cover treatment.) Your kind words are very important to me, and very much appreciated.

I suppose you want news... though watching a writer write has to have all the visual excitement of watching the laundry go 'round. The new book, still untitled, is as of this writing up to Chapter 9, and going slowly but reasonably well. It's developing into a very personal amalgamation of mystery, science fiction, and deep character-study, though at present and for a change the character going through the dark night of the soul isn't Miles -- he kind of did that in Memory, and is now due for a period of assimilation and a quieter kind of growth. I will say he is finding, or is about to find, his new job more of a challenge than he was quite expecting. (Surprising Miles is such fun.) Heh. Just because he was on his home turf, more-or-less, he thought he could let his guard down....

My official deadline for this book is June, and barring major life-interruptions I think it will be done about on time. This puts probable publication sometime in early 1998, depending on the complications of Baen's release schedule.

Though British rights for my first three novels (Shards of Honor, Warrior's Apprentice, and Ethan of Athos) and my last three (Cetaganda, Memory, and the untitled book in progress) are now available, no British publisher has picked up the challenge, so no British publications are presently planned.

---
But in the meanwhile, The Warrior's Apprentice will be back in print (yay!) from Baen with a new cover by Gary Ruddell in March. Young Miles, a trade paperback omnibus (like Cordelia's Honor) is scheduled for June release, for which I will be writing an Author's Afterword real soon now. Young Miles will consist of The Warrior's Apprentice, the novella "The Mountains of Mourning", and The Vor Game. Other trade paperbacks of the backlist books are planned to follow, also to be assembled in internal-chronological order.


(The little frame-story from Borders of Infinity will alas be lost in this shuffle. It was originally written to editorial request, to make the novella collection look more novel-like (because novels outsell single-author collections by some huge margin), but I became rather fond of it. The dialogue line from Memory, "You taught me that," said Miles rather nastily (to Illyan), "in a way I'm not likely to forget." will lose its antecedent. Also the first mention of an Imperial Auditor will drop out (yes, it was Gregor's buddy Count Henri Vorvolk, playing 9th Auditor); well, it will give the continuity, um, enthusiasts something to gossip about.)


And Tor Books will be reprinting the Women at War anthology in trade paperback format in June also. So 1997 won't be a complete desert.


Ta for now!


Lois.

---
Falling Free - Audio recording (9 hours, unabridged, The Reader's Chair, $42)
This review by Michael Bernardi.

This is the first recording of one of Lois's books that The Reader's Chair has made.
It contains the complete text of the book and is read by Michael Hanson and Carol Cowan. The Reader's Chair have now got the rights to publish the first ten books Lois has published.

"Falling Free" was not my favourite book of Lois's, however listening to this excellent production made me re-evaluate and while I doubt if it will ever be a favourite I do appreciate the quality of writing much more.

You would think that over nine hours of spoken work might be a bit boring by the end. But not a bit of it. Michael and Carol bring the whole thing alive. Despite being an unabridged reading with all description of the novel it really feels more like a play than a reading. Every charter has his or her own voice so you recognise who is speaking even before the text indicates who it is. It amazing how this works, with only two readers, but it does.

The story of Falling Free should be familiar to most people reading this, but for those who haven't read the book...

Falling Free is set mostly on the Cay Habitat a space station orbiting the planet Rodeo. It tells the story of GalacTec testing engineer Leo Graf. His meeting the new artificially designed species Quaddies. And how he wrestles with his conscience and wins.

If you want to enjoy Lois in circumstances where you can't read a book, but can listen to tape then this is ideal. If you know someone who is partially sighted this would be an ideal gift. Or if you are just a completest, then buy this tape.

In fact the only mark against this tape is the fact that at the moment is currently only available in the US and Canada.

The Reader's Chair is a small company, but has produced a number of award-winning audio books. To introduce listeners to their products, the firm has produced a sample tape of its books, which may be requested by calling (800) 616-1350. This is the same number that may be used to order Falling Free.

---
Shards of Honor is due out from The Reader's Chair in the New Year.

---

Memory was published by Baen in hard back in October 1996. Cetaganda has also now arrived in paperback, it was also published in October.

---

Cordelia's Honor was published in November 1996. This is an omnibus edition containing Barrayar and Shards of Honor, and includes an afterward by Lois.


"Labyrinth" was re-published by RoC, in November 1996, in the collection, Intergalactic Mercenaries edited by Sheila Williams & Cynthia Manson.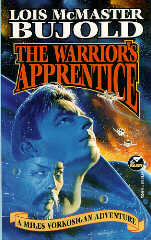 After a period of time out of print, The Warrior's Apprentice will be re-published in March 1997.

---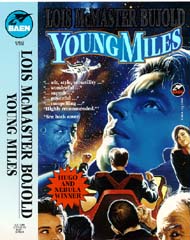 An Omnibus edition containing The Warrior's Apprentice, The Vor Game and "Mountains of Mourning" will also be published, next year under the title of The Young Miles.

---
If you have news, reviews or suggestions for the newsletter send them to me at the address below. Note that I may or may not use material submitted and will edit material as I see fit.
Miles' Minions is the official Lois McMaster Bujold Appreciation Society. The Dendarii Dispatch is the newsletter of Miles' Minions. The main purpose of the Dispatch is to provide information about Lois's convention appearances, book release dates and to allow Lois to easily communicate with her fans.
The editorial address for queries about the Dendarii Dispatch is:-
Dendarii Dispatch
145 Maple Drive
Burgess Hill
West Sussex
RH15 8DE
England
email: mike@dendarii.demon.co.uk
The contact here is Michael Bernardi
The official address for subscriptions to Miles' Minions etc is:-
Miles' Minions
PO Box 132
Shiloh
NJ 08353
USA
The contact here is Judith Louvis
---
There is also an electronic discussion list on the Internet which you can join (if you have access to Internet email). The Lois McMaster Bujold Mailing List exists to allow discussion of the works of Lois Bujold. If you wish to join the list send an email to listproc@herald.co.uk with subject blank and message body of
SUBSCRIBE LOIS-BUJOLD Miles Vorkosigan
(assuming your name is Miles Vorkosigan if it isn't, substitute your own name instead, not your email address).
A Lois McMaster Bujold World Wide Web home page (The Bujold Nexus) has just been set up, and it can be found at http://www.herald.co.uk/~dendarii/.
© 1997 by Michael Bernardi
Current version by Michael Bernardi, mike@dendarii.demon.co.uk
---
---
All comments or queries about this Web page to: webmaster@dendarii.demon.co.uk
Last updated: April 16th 1998
---